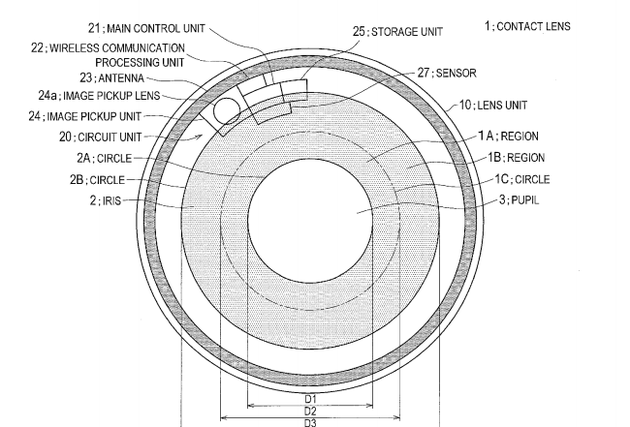 Sony Filed A Patent For Video-Recording Contact Lens
Tech giant Sony has joined the race to develop digital contact lens technology.




Sony has plans for a wearable lens that can take photos and video, according to an application filed with the U.S. patent office, Tech Story reported.




Sony filed a patent in the U.S. in May of 2013 for a smart contact lens — a fact only picked up by the media this week.




The device would not only take photos and video, but store data, with no need for a tether to a smartphone.




The lens would feature an organic electroluminescence display screen, according to the patent.




By blinking an eye, the user would be able to operate the lens via the display. The camera would feature autofocus, automatic exposure adjustment and an adjustable zoom. The device would also be able to record video, store it and play it back.
Sony patent application reveals new contact lenses that can record video | Daily Mail Online
Sony has come up with intelligent contact lenses capable of recording and playing video - all with the blink of an eye.

The Tokyo-based firm filed a patent application, published earlier this month, revealing how the smart lenses would use movements of the eyelids to activate various functions, CW33 reported.

Seven Japanese inventors designed the contacts, which would include a camera, a wireless processing unit and a storage unit.

This means the lenses could store their own video - unlike Samsung's smart lenses patented earlier this month, which rely on a smartphone.