Sabotage - Wikipedia, the free encyclopedia
Sabotage is a deliberate action aimed at weakening a polity or corporation through subversion, obstruction, disruption or destruction. In a workplace setting, sabotage is the conscious withdrawal of efficiency generally directed at causing some change in workplace conditions. One who engages in sabotage is a saboteur. Saboteurs typically try to conceal their identities because of the consequences of their actions.
Any unexplained adverse condition might be sabotage. Sabotage is sometimes called tampering, meddling, tinkering, malicious pranks, malicious hacking, a practical joke or the like to avoid needing to invoke legal and organizational requirements for addressing sabotage.
CDC Probes New Chipotle-Linked E. Coli Cases - WSJ
The Centers for Disease Control and Prevention said it was investigating another outbreak of E. coli last month linked to Chipotle Mexican Grill

Inc.


The newly reported cases involve bacteria with a different genetic fingerprint than found in the previous outbreak, the agency said on Monday, A total of five people in Kansas, North Dakota and Oklahoma became ill between Nov. 18 and Nov. 26, all of whom reported having eaten at a Chipotle in the week before they got sick.
The new cases come less than a week after Chipotle Founder and Co-Chief Executive Steve Ells published an open letter to customers in about 60 newspapers across the U.S. in which he apologized for outbreaks that have sickened people.
"We have indicated before that we expected that we may see additional cases stemming from this, and CDC is now reporting some additional cases," Chipotle spokesman Chris Arnold said Monday. "No restaurants are closing because of this. It is important to note that the most recent exposure on this was about a month ago, and none of the ingredients that were in our restaurants at that time would still be today."
Escherichia coli O26 Infections Linked to Chipotle Mexican Grill Restaurants | November 2015 | E. coli | CDC
____________________________________________________
5 Things Monsanto Doesn't Want You to Know About the GMO Labeling Debate
Last month, the U.S. Food and Drug Administration (FDA) made history when the federal agency approved the first genetically modified (GMO) animal for human consumption: AquaBounty Technologies' GMO salmon. The controversial move has since opened floodgates about the future of food.
Whatever side of the fence you're on about this fish—which has been genetically altered to grow to market size twice as fast as wild salmon—you'll have no idea you're eating it anyway. The FDA has not required the product to carry a label.
Labeling Opponents | Just Label It
Transparency is our right. Yet a handful of companies, such as Monsanto, Kraft, Kellogg's and General Mills, have gotten away with hiding important information about our food for nearly two decades.
In November of 2012, some of America's biggest and most profitable chemical companies teamed up with a handful of large food companies to spend more than $45 million in an advertising blitz to stop Prop 37, an initiative to require labeling of genetically modified foods. In 2013, the same companies raised millions to try to defeat a similar initiative in Washington state. In 2014, they were pouring money into anti-GMO labeling ballot campaigns in both Oregon and Colorado.
For these companies, a defeat of labeling supports their interests, not the consumers. The Grocery Manufacturers Association (GMA) – Big Food's national lobby group –called defeating Prop 37 "the single highest priority for GMA" in 2012, and has poured millions into defeating Washington state's initiative. While claiming their products are safe and that biotechnology is beneficial, they are emptying their pockets to fight a simple label. What is there to hide?
Why Liberal Americans Are Turning Against GMO Labeling - Forbes
Europeans and many other countries that consider themselves "liberal minded" scratch their heads over why there is such a big controversy in the United States over the labeling of foods that contain genetically modified ingredients.
Sixty-four nations
around the world have enacted mandatory labeling laws.
"GM foods are not proven safe. Why not just label them and let the consumer decide?" is a common thread on food blogs. "They must be kowtowing to the GMO lobby."
That's what has been characterized as the liberal position: the consumer's right to know. Many activist groups lobbying for labeling cite a New York Times
poll
that 93 percent of Americans support it.
So why do the leading independent science organizations in the US and the country's top liberal news publications oppose mandatory labeling?
_________________________________________________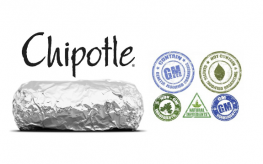 In a display of effective consumer activism, Chipotle Mexican Grill has become the first US restaurant chain to go ahead and
label all GMOs sold through their locations on the menu
. And unlike Whole Foods and other grocers, who are making similar strides but are actually
years away
from actual implementation,
Chipotle has already launched the labeling initiative into existence
.
In case you've never heard of Chipotle, it is a 'natural' Mexican food restaurant that you could say is essentially a fast food hybrid. The chain actually had a major investment from McDonald's back in 1998, but the fast food titan ultimately divested from Chipotle in 2006. Subsequently, that's when Chipotle
really started
to explode with over 500 locations — now hitting 1,400 chain locations with an income of $278 million. In other words, we're talking about
a major fast food chain that is highlighting the issue of GMOs in a way that's really important
.