Somethings never change. The history of the white man is riddled with his barbaric action of killing indigenous people and collecting their body parts. During slavery what many blacks don't know is that he, the white man, not only lynched black men and women but he also collected their body parts as a trophy / sovereigns of his satanic act.
_________________________________________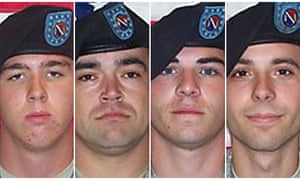 US soldiers 'killed Afghan civilians for sport and collected fingers as trophies' | US news | The Guardian
Twelve American soldiers face charges over a secret "kill team" that allegedly blew up and shot Afghan civilians at random and collected their fingers as trophies.
Five of the soldiers are charged with murdering three Afghan men who were allegedly killed for sport in separate attacks this year. Seven others are accused of covering up the killings and assaulting a recruit who exposed the murders when he reported other abuses, including members of the unit smoking hashish stolen from civilians.
In one of the most serious accusations of war crimes to emerge from the Afghan conflict, the killings are alleged to have been carried out by members of a Stryker infantry brigade based in Kandahar province in southern Afghanistan.
The Kill Team: How U.S. Soldiers in Afghanistan Murdered Innocent Civilians | Rolling Stone
E

arly last year, after six hard months soldiering in Afghanistan, a group of American infantrymen reached a momentous decision: It was finally time to kill a haji.
Among the men of Bravo Company, the notion of killing an Afghan civilian had been the subject of countless conversations, during lunchtime chats and late-night bull sessions. For weeks, they had weighed the ethics of bagging "savages" and debated the probability of getting caught. Some of them agonized over the idea; others were gung-ho from the start. But not long after the New Year, as winter descended on the arid plains of Kandahar Province, they agreed to stop talking and actually pull the trigger.





Bravo Company had been stationed in the area since summer, struggling, with little success, to root out the Taliban and establish an American presence in one of the most violent and lawless regions of the country. On the morning of January 15th, the company's 3rd Platoon – part of the 5th Stryker Brigade, based out of Tacoma, Washington – left the mini-metropolis of tents and trailers at Forward Operating Base Ramrod in a convoy of armored Stryker troop carriers. The massive, eight-wheeled trucks surged across wide, vacant stretches of desert, until they came to La Mohammad Kalay, an isolated farming village tucked away behind a few poppy fields.