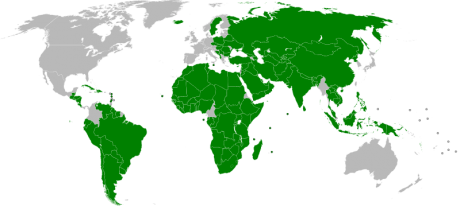 Will
a UN Security Council resolution formally recognizing the establishment
of a Palestinian state be passed by the end of 2015? Now that the
Vatican has formally recognized a Palestinian state, there is a
tremendous amount of international momentum for precisely such a UN
Security Council resolution. In fact, France
plans to push really hard for one
by the end of this year. At this point, the only thing that could
derail those plans is Barack Obama. For years, the threat of a Security
Council veto has been the one thing stopping a resolution from moving
forward. But now that Benjamin Netanyahu has been re-elected and has
put together a cabinet that does not seem inclined to negotiate with the
Palestinians, the Obama administration is pledging to "reevaluate our
approach" and says that it will not "prejudge" what it will do if a vote
comes up at the United Nations. And as you will see below, one news
source is now reporting that behind the scenes Barack Obama has already
given the "green light" for France to go ahead with a resolution on a
Palestinian state at the UN. If this is truly what Obama plans to do,
it will absolutely shatter U.S. relations with Israel and plunge the
entire Middle East into chaos.
Most Americans don't realize this, but 136 countries already formally
recognize a Palestinian state. Those 136 nations have a combined
population of more than 5.5 billion people.
As of this moment, the major holdouts are the United States, Canada,
Mexico, Australia, New Zealand and most of Europe. But most of the
European nations have already indicated that they are ready to recognize
a Palestinian state if the United States will. In fact, as I mentioned
above, France plans to lead the push for a Palestinian state at the UN
Security Council.
Read more...