​"The Bold and the Beautiful" reveals character Maya Avant is transgender - CBS News
"The Bold and the Beautiful" revealed that a female character, played by a woman for the last two years, is transgender. The surprise is taking the long-running CBS daytime drama to a new level, reports "Entertainment Tonight" co-host Kevin Frazier
For years, fans of the show have known Maya Avant as a supermodel and fashion industry executive. But on Wednesday's episode they discovered something about her they didn't know - Avant is transgender.
Soap operas have been at the forefront of tackling controversial issues, but the twist came as a surprise to the actress playing her, Karla Mosley.
CBS soap reveals character is transgender
On soap operas everybody has secrets, but The Bold and the Beautiful's popular Maya Avant has a new one.
Turns out, she was born a man.
Not shocked? Well, join the crowd.
Transgender characters (and sometimes actors who play them) are suddenly everywhere in pop culture — they're so mainstream they can even turn up on CBS' long-running daytime drama with a blast of proud network publicity.


The 28-year-old soap revealed in Wednesday's episode that Maya, a model now dating Rick Forrester, transitioned from male to female at a young age, after her sister confronted her with her birth certificate.

The network says B&B is the only current show on broadcast or cable TV to include a transgender character as part of the regular cast.
More Gay Black Characters On TV Series These Days: 'Empire,' 'Being Mary Jane,' 'The Haves & The Have Nots'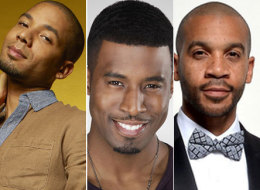 FOX's mega-successful 'Empire' isn't the only prime-time series featuring a major story arc involving a gay black male character; BET's 'Being Mary Jane' and Tyler Perry's 'The Haves And The Have Nots' are also taking the bold leap in representing this untapped demographic in non-stereotypical ways.
Veteran entertainment journalist Karu F. Daniels shines light on the influx of such characters -- portrayed by Jussie Smollett, Aaron D. Spears and Gavin Houston, respectively. Filmmaker Patrik Ian Polk ('Noah's Arc'), media activist Matt Kane and television programming exec Charlie Jordan Brookins also weigh in on what could be considered a new cause for celebration in the gay community.
Read the whole story at New York Daily News
Watch these videos: