Three college students killed in Chapel Hill shooting; 46-year-old man charged :: WRAL.com
Deah Shaddy Barakat, 23, of Chapel Hill, Yusor Mohammad, 21, of Chapel Hill, and Razan Mohammad Abu-Salha, 19, of Raleigh, were pronounced dead at the scene, police said.
All three victims were shot in the head, sources said.
The three victims were Muslim, and Hicks is not, according to posts about atheism on his Facebook page. In thousands of posts on social media, many have now questioned whether the victims' Islamic faith was a factor in the shooting.
The Council on American-Islamic Relations, the nation's largest civil advocacy group for Muslims, called on law enforcement officials Wednesday to address speculation about a motive for the killings.
"Based on the brutal nature of this crime, the past anti-religion statements of the alleged perpetrator, the religious attire of two of the victims and the rising anti-Muslim rhetoric in American society, we urge state and federal law enforcement authorities to quickly address speculation of a possible bias motive in this case," CAIR National Executive Director Nihad Awad said in a statement. "Our heartfelt condolences go to the families and loved ones of the victims and to the local community."
Craig Stephen Hicks Arrested After Chapel Hill Shooting Kills 3
Chapel Hill police told local news outlets that Craig Stephen Hicks, 46, was arrested and has been charged with three counts of first-degree murder. He is being held at the Durham County Jail.
Police were responding to a report of gunshots around 5:15 p.m. Tuesday when they found three people who were pronounced dead at the scene. The dead were identified as Deah Shaddy Barakat, 23, of Chapel Hill; Yusor Mohammad, 21, of Chapel Hill; and Razan Mohammad Abu-Salha, 19, of Raleigh.
3 Muslim students shot to death in apartment near UNC Chapel Hill - CNN.com
Shootings In America
:
Did you know that according the New York Times 87% of mass shootings in America are committed by Caucasian males between the ages of 13 to 56, yet White Americans tend to be fearful of young Black males and Muslims
Terrorists? Angry White males at home are a far greater threat than foreigners abroad
There is a very real threat to law enforcement officers in America, however, the primary threat is not coming from ISIS, Al-Qaeda or any radicalized Muslims in the United States as the controlled media would have you believe.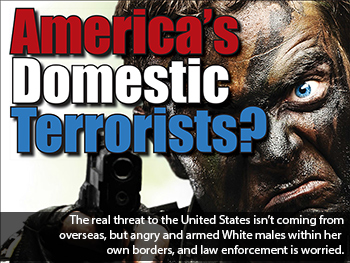 A direct threat has emerged from within the sovereign citizens movement, an ideologically committed group of people with documented views against the U.S. government, who advocate violent overthrow of existing government structures, laws and call for citizen arrests of high-ranking political officials. It is also referred to in some circles as the "Patriot" movement. According to the Federal Bureau of Investigation, sovereign citizens are anti-government extremists who subscribe to a wide range of beliefs. A central theme, however, is that although they physically reside in this country, they are separate or "sovereign" from the United States. They don't believe they have to answer to any government authority, including courts, taxing entities, motor vehicle departments, or law enforcement.
In 2009, the United States Department of Homeland Security under the direction of then Secretary Janet Napolitano released a report titled "Rightwing Extremism: Current Economic and Political Climate Fueling Resurgence in Radicalization and Recruitment."