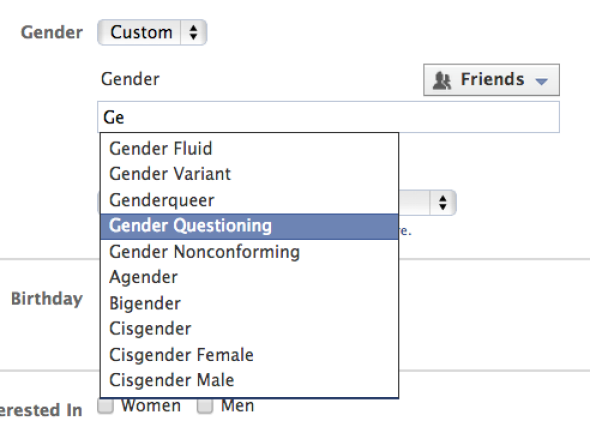 Facebook custom gender options: Here are all 56 custom options.
Facebook on Thursday added more than 50 custom gender options for users who don't identify simply as "male" or "female." While this was welcome news to LGBTQ advocates, the company did not publish a list of all the options, leaving users to begin typing into an empty text field in order to bring up a drop-down menu of autocomplete choices. (The site does not seem to allow users to simply leave the field blank, or to type in a gender identifier that is not among the preset options.)
Facebook told me it has no plans to publish a comprehensive list of the choices it offers. So we took it upon ourselves to reconstruct it by typing each letter of the alphabet into the text field, one at a time, and transcribing the options that appeared. We found 56 custom options, bringing the total number of options to 58 including male and female. Please note that it's possible that the list below is not complete. If you find one that we missed, please feel free to point it out in the comments and we'll update accordingly.
Agender
Androgyne
Androgynous
Bigender
Cis
Cisgender
Cis Female
Cis Male
Cis Man
Cis Woman
Cisgender Female
Cisgender Male
Cisgender Man
Cisgender Woman
Female to Male
FTM
Gender Fluid
Gender Nonconforming
Gender Questioning
Gender Variant
Genderqueer
Intersex
Male to Female
MTF
Neither
Neutrois
Non-binary
Other
Pangender
Trans
Trans*
Trans Female
Trans* Female
Trans Male
Trans* Male
Trans Man
Trans* Man
Trans Person
Trans* Person
Trans Woman
Trans* Woman
Transfeminine
Transgender
Transgender Female
Transgender Male
Transgender Man
Transgender Person
Transgender Woman
Transmasculine
Transsexual
Transsexual Female
Transsexual Male
Transsexual Man
Transsexual Person
Transsexual Woman
Two-Spirit
Don't fit Facebook's 58 gender choices? Make it up | CTV News
Facebook users who don't fit any of the 58 gender identity options offered by the social media giant are now being given a rather big 59th option: fill in the blank.

"Now, if you do not identify with the pre-populated list of gender identities, you are able to add your own," said a Facebook announcement published online Thursday morning and shared in advance with The Associated Press.

Facebook software engineer Ari Chivukula, who identifies as transgender and was part of the team that made the free-form option, thinks the change will lead to more widespread acceptance of people who don't identify themselves as a man or woman.
Human sex ratio - Wikipedia, the free encyclopedia
In anthropology and demography, the human sex ratio is the ratio of males to females in a population. Like most sexual species, the sex ratio in humans is approximately 1:1. The sex ratio at birth is commonly thought to be 107 boys to 100 girls,[2] although this value is subject to debate in the scientific community. The sex ratio for the entire world population is 101 males to 100 females.[3]

Gender imbalance may arise as a consequence of various factors including natural factors, exposure to pesticides and environmental contaminants,[4] war casualties, gender-selective abortions and infanticides, aging, and deliberate gendercide.

More data is available for humans than for any other species, and the human sex ratio is more studied than that of any other species, but interpreting these statistics can be difficult.

Human sex ratios, either at birth or in the population as a whole, are reported in any of four ways: the ratio of males to females, the ratio of females to males, the proportion of males, or the proportion of females. If there are 108,000 males and 100,000 females the ratio of males to females is 1.080 and the proportion of males is 51.9%. Scientific literature often uses the proportion of males. This article uses the ratio of males to females, unless specified otherwise.

Map indicating the human sex ratio by country.[1]

 

 Countries with more

females

than males.

 

 Countries with the

same

number of males and females (accounting that the ratio has 3

significant figures

, i.e., 1.00 males to 1.00 females).

 

 Countries with more

males

than females.

  No data
Sex ratio by country for total population. Blue represents more women, red more men
than the world average of 1.01 males/female.
Sex ratio by country population aged below 15. Blue represents more women, red more men
than the world average of 1.06 males/female.
Sex ratio by country for population above 65. Blue represents more women, red more men
than the world average of 0.79 males/female.