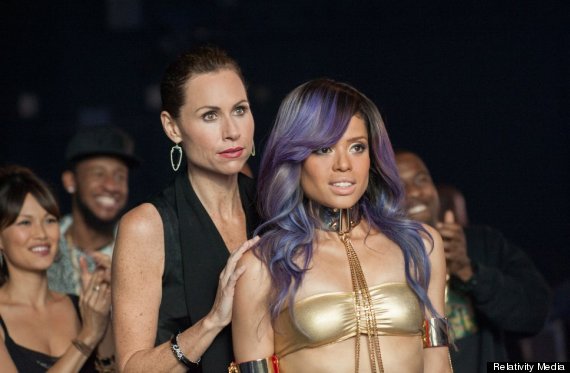 The discussion surrounding the hyper-sexualization of the music industry is much more complex than pointing out that
everyone is wearing thongs now
. Things have certainly gotten sexier. But there's a fine line between defending the artists and
slut-shaming them
. The precarious divide between sex-positivity and pandering to the male gaze is a challenge all female performers face. With her upcoming film, "Beyond The Lights," Gina Prince-Bythewood has found possibly the closest thing they have to a solution: authenticity.
"I have two kids, so the normalization of the hyper-sexualization is troubling to me," she told HuffPost Entertainment. "I thought that it was important to talk about that, the underbelly of the industry. All we see are the fun parts of job and all of the great shots on Instagram. There is another world that we're not tweeting about. It's tough for female artists, there's a blueprint they are forced to follow."
In writing "Beyond The Lights," Prince-Bythewood was very interested in the way personas are formed, especially for young female artists. That "blueprint" refers to the way they are turned into brands, forced to throw away any sense of self in pursuit of an image.
Read more...
Watch:
Nicole Scherzinger: You Have to Sell Your Soul to the Devil - YouTube
Former Pussycat Dolls singer and Dancing with the Stars performer Nicole Scherzinger says that to be successful in the music industry you have to sell your soul to the Devil.
Also read:
________________________________________________
The manipulation and exploitation of the Black woman in the music industry is not to sell records. Records can be sold without exploiting the female. So why are Black women being manipulated and exploited?
America is increasingly becoming the land of the of the haves and have nots and racially unequal. This inequity is creating an increasing animosity toward those that have and between Black and white. One method of keeping the masses controlled is distraction, keep their minds between their legs. Another is to lower the morality of the masses to the point that they have no moral ground to stand on, thereby eliminating the call for justice.
There is an even more insidious goal of the manipulators in the music industry and that is to totally blur the lines of civilized behavior. They are mass conditioning women to lower their moral code in dress and the way they make money by making stripping and prostitution glamorous. Now when a woman strips down to her underwear, what the music industry wants us to believe is her outfit that she preforms in, we are to see that as the high of feminism, that she is empowered, when the truth is she is being manipulated help to bring in a decadent society.