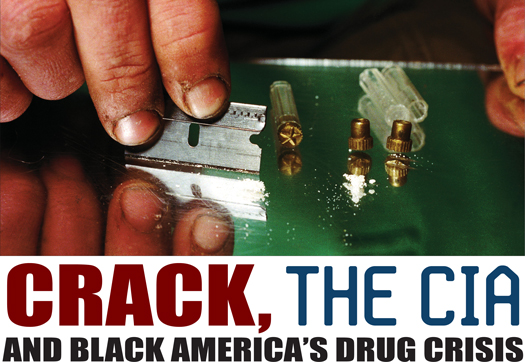 The film "Kill the Messenger" rekindled interest and outrage over CIA ties to drug trafficking and the 1980s crack cocaine epidemic that devastated neighborhoods, destroyed families and led to the imprisonment of thousands from Black communities across America.
The movie highlights the work, honor and the demise of journalist Gary Webb for his investigation into CIA-connected drug peddling, and the movie release Oct. 10 again raised the important question: How is Black America faring in "post-crack" years?  Read more...
Also read:
Crack Cocaine - The Great Conspiracy to Destroy The Black Male
'Illegitimate' government co-conspirators against Black life

I held a press conference in Washington, D.C. during the time that George H.W. Bush was in the White House, and I charged the government of the United States—this is on record—with declaring war on the Black community, and the Black man in particular.  Former President Bush knows:  He, being the former head of the C.I.A., became vice-president under Ronald Reagan who privatized the security agencies of the government.  [Ref. Executive Order 12333, "United States Intelligence Activities"] 

This order did not originate in the C.I.A., and that is why they don't have any records of this in the CIA; but C.I.A. operatives were involved.  This order came directly out of the White House because the C.I.A. is not "Pharaoh"; "Pharaoh" is the head of government—and that is President Bush, President Reagan, and all of the bastards that lived before them.  I used the unkind word "bastard," because a bastard is an illegitimate child—and they are illegitimate heads of state and government.

And you who legitimize "bastards":  They have no right to rule you, but you allow them to rule you!  For what?  Stand up like a man, and tell them you will not rule me anymore!  Don't be afraid. … They have no power over you but the power you give them by obeying them. When are you going to stand up and say no?  Don't just say "no" to drugs, say no to the enemy that is bringing the drugs!  Say "no!" to a government that has entered into a conspiracy against the Black man!