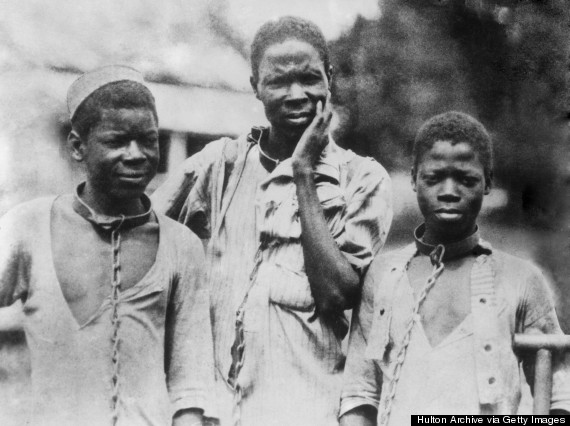 Edward Baptist's new book, "The Half Has Never Been Told: Slavery And The Making Of American Capitalism", drew a lot of attention last month after the Economist said it was too hard on slave owners.
What you might not have taken away from the ensuing media storm is that "The Half Has Never Been Told" is quite a gripping read. Baptist weaves deftly between analysis of economic data and narrative prose to paint a picture of American slavery that is pretty different from what you may have learned in high school Social Studies class.
The whole thing is well worth reading in full. Baptist positions his book in opposition to textbooks that present slavery like a distant aberration of American history, cramming 250 years into a few chapters in a way "that cuts the beating heart out of the story." To counter that image of history, Baptist devotes much of the book to depicting the lived experience of enslavement in a way that's vivid and immediate.  Read more...
Also read:
Hard Work or Hardly Working? How White People Got So Rich
The foundation of American White supremacy sits tenuously on a rickety base of lies and deceptions about how Whites gained their wealth and status. A century and a half after slavery the median wealth of White families is $100,000; for Black families, it's $5,000. The belief that Whites achieved this 20-1 wealth advantage by HARD WORK is an absurd and a historical fantasy. Nonetheless, the airwaves are filled with the self-righteous pronouncements of Caucasian commentators anxious to "advise" Blacks to "work hard" and to "pull themselves up by their bootstraps" if they want to succeed in America. Not only do they seek to invent a fraudulent fairy tale that whitewashes a very bloody legacy, but they also aim to reaffirm the notion that "non-Whites" are naturally inferior and lazy and are thus responsible for having comparatively nothing. The truth is a whole lot nastier than that.

The group that has always posed as the "best friends of Black people" is most fond of making this argument, yet the Jews are guilty of the worst abuses of the slavery and Jim Crow systems of White empowerment. Any reader of

The Secret Relationship Between Blacks and Jews, Vol. 2, will discover that Jewish wealth in America was so completely dependent on Black slavery that their incessant Jewish mantra of "hard work" will be forever consigned to mythology. The mechanisms of government and private industry that were constructed to specifically hamstring Black prospects for success after slavery are extraordinary. In harmony, government and private industry, and all sectors of American society, instituted a series of White Affirmative Action programs for the benefit of WHITE EURO-AMERICANS ONLY, programs which gave them material advantages that had nothing whatever to do with either merit or "hard work."