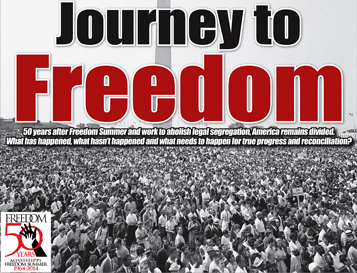 50 years after Freedom Summer and work to abolish legal segregation, America remains divided. What has happened, what hasn't happened and what needs to happen for true progress and reconciliation?
After trudging for 50 years along arguably the most dangerous, yet most productive trail of the Civil Rights Movement's long road toward freedom, 1,500 veterans of Mississippi's 1964 Freedom Summer reunited on the campus of Tougaloo College here in late June, to formally plot the movement's progress and—with 700 delegates to a simultaneous Youth Congress—to strategize for its future.
In the 50 years since the original Freedom Summer, the "long road to freedom and racial reconciliation," has removed the overt symbols of American apartheid, and put a Black president in the White House, and with his election, wholesale efforts to therefore deny that racism/White supremacy remain in this country. But in the Magnolia State, where the "official" Black population is 40 percent of the total, little, except the party label has changed.
» FULL STORY