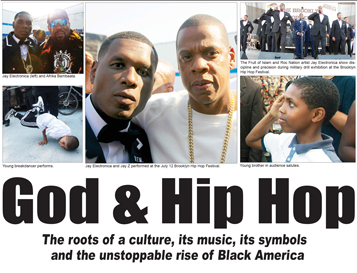 Within the culture of Hip Hop, you will hear many using the phrase "Word is Bond" who have never in their lives seen the Supreme Wisdom Lessons by Master W. Fard Muhammad, nor the 120 Lessons of the Five Percenters. But at the core of the culture are the teachings of the Nation of Islam, which center on the divine destiny of Black people to rise, the importance of knowledge of self, and the reality of God as manifested in men and women, not as a disembodied spirit.
In fact, the fundamental teachings that a man, God himself, came to identify and deliver Black people in fulfillment of the prophecies, is at the root of any Black liberation theology being taught or heard today.
The Final Call...

Also read:
Inextricably Linked: The Nation of Islam and the Five Percenters
The historical ties between the Nation of Islam and the Five Percenters date back to the latter's very inception. After returning to Harlem from the Korean War and his stint in the Army, Clarence 13X Smith a.k.a. Allah, the founder of the Five Percenters, followed his wife Dora and his family into the Nation of Islam under the leadership of the Honorable Elijah Muhammad and local Temple No. 7 Minister Malcolm X in 1960.