With a buying power of over $1 trillion Blacks could harness those dollars to Black owned initiatives and opportunities for real socio- economic change would be limitless, said Black business advocates, entrepreneurs and activists.
"We should begin to spend a substantial portion of those dollars with Black-owned businesses; we should be depositing substantial amounts of those dollars in Black-owned banks," said Lasana K. Mack, founder and executive director of APPEAL, Inc., based in Washington, D.C.
By doing this, explained Mr. Mack, those very same Black financial institutions will then have the capacity to fund projects, goods and services needed by Black consumers.
The Final Call...
Also read: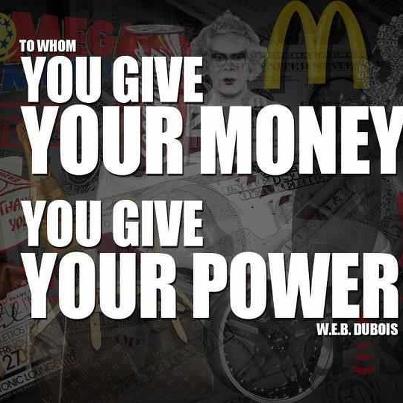 A major reason for Black America's failure is the inability to recycle its money within its communities, he implied. Nearly all of Black income is spent directly outside of Black hands, because Blacks do not practice group economics—pooling of money, focusing it into one geographical area and purchasing in a bloc, he added.
A perfect example of group economics, according to Dr. Anderson, was accomplished in the Greenwood District of Tulsa, Okla., in the early 1900s—a time when legal segregation forced Blacks to do business among themselves. Commonly referred to as "Black Wall Street," the area became a nationally recognized entrepreneurial center, as dollars circulated 36 to 1,000 times within the Black community, according to authors Jay Wilson and Ron Wallace in their book on the subject.
How did we become a "nation of consumers"? Did you know that is
learned behavior
from our experience in slavery, and then, the sharecropping system? But we must know our history to understand it.
When most Blacks emerged from slavery, most of us tried to get as far away from our former slave masters and their plantations as possible. We even set up more than 60 all-Black towns, where we had our own government, and began a strong tradition of "do for self" without the oversight of our former slave masters. And many of these 60 Black towns were in Indian territories. Did you know that the Native People have lots of land and resources, mineral strength, today? But The Enemy is right on Indian Land, taking the gas, taking the uranium; taking whatever their lands have, and giving them nothing! Suppose we, and our Native Brothers, found a way to unite? And we help them with the Knowledge we have; and, the land is there, and we help?
However, brothers and sisters: You can't go to your brother with the mentality of your former slave master to "take advantage of others." You have to go with the mind of one who wants to serve them; and in so doing, you help yourself.