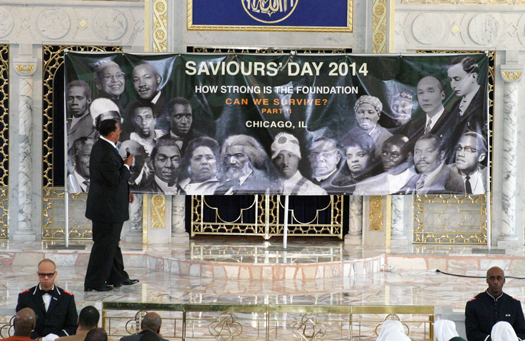 How long can you build your faith in a nation where you don't get any justice?
Wouldn't it be something if we stood our ground and said,"I feel threatened. I'm going to shoot before he shoots me! I feel threatened!" How many Black men walk the streets and feel threatened? But, their Stand Your Ground law isn't for you, Stand Your Ground is for White folks, to hide murder behind the law.
Police have arrested some of us for traffic violations; they get you down in the jail house and you never come out alive.
How long can you build your future, hoping in this?
You've got a Black "attorney general," but how many cases of injustice to Black men and women tried in the White court system has the Justice Department come to the aid of, with a just
decision being rendered after the Justice Department looked at it?
Frederick Douglass, who was about to die, finishes: "The immediate future looks dark and troubled. I cannot shut my eyes to the ugly facts before me." This is in 1894. Can you continue to shut your eyes to the ugly facts that are in front of us?
That's why they want you
high
. The more drugged you are, the more stoned out of your mind you are, the more sex-driven you are, you're not looking at the storm clouds gathering above your head. That's why "Thy Kingdom" can't come, because you are disconnected from
him
who never got disconnected from God.
FinalCall...