I think it's clear by the stats that areas where Blacks heavily populate suffer the most. This stats on the south's deplorable condition are not by accident. They are designed to keep Blacks in a subservient and physically unhealthy condition.
States that are not in the south, Blacks suffer other aliments, like AIDS, high crime and
police brutality
.
This is the reality of Black life in white America. Separation is the only solution to any future for
Blacks in America
.
Black Wall Street
must once again pop-up all across America just like
Chinatowns
are found where ever there are large populations of Chinese.
____________________________________________________
These 9 Maps Should Absolutely Outrage Southerners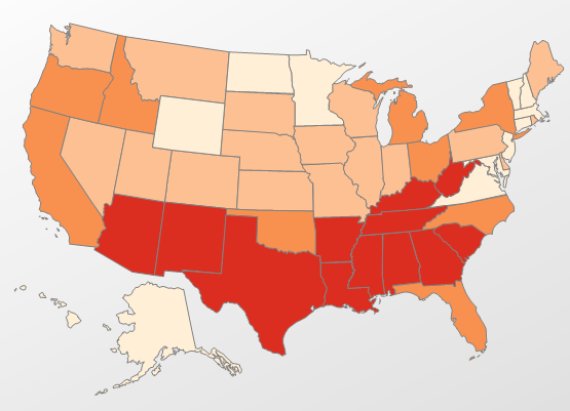 In fact,
as many as
one in four Southern kids lives in
poverty
, compared to the national average of
one in five
.
In the map above, red shading indicates a poverty rates between 17.9 and 22.8 percent. Orange indicates 15.9 to 17.8 percent; light orange, 12.2-15.8 percent; pale yellow, 9 to 12.1 percent. As you can see, there's a lot of high-poverty red in the South.
Read more...