Bigger, better bolder: Doing for Self brings opportunities for success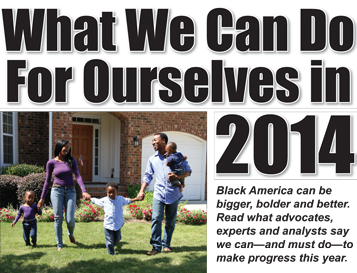 Projections for Black America in 2014 aren't gloomy for those who refuse to put all hope for survival in America's hands. While many look to the failing U.S. economy and weak politicians for jobs and programs, others say an unlimited future awaits those willing to pool their resources and talents for their own benefit.
There's a consistency to the drumbeat of Do For Self ideas organizations and activists are putting forth, according to Dr. Ron Daniels, president of the Institute of the Black World 21st Century. The institute is committed to uplifting Blacks socially, politically, economically, and culturally worldwide.
"Number one, I think more than anything else, we need to continue a spirit of resistance. What we have in our hands is the capacity, but it takes a mindset that is steeped in resistance," said Dr. Daniels.
"We have to organize our own resources to use them as a weapon, but for our own internal development, meaning the ability to build our own shops and stores and businesses, but also to punish our adversaries, for those who are not responding," Dr. Daniels continued.
» FULL STORY