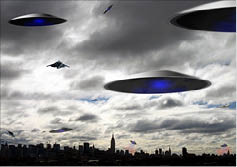 Graphic artist, Brother Harold Muhammad's
rendering of
The Battle in the Sky as described in the
Divine Teachings of the Most
Honorable Elijah Muhammad.
Graphic Credit: Harold Muhammad
This prophecy refers to America that will burn as an oven and upon
the horizon wings are outspread which may refer to the work of the baby
planes bringing a fiery destruction upon the land. Chapter 4 of Malachi
speaks of the return in the last days as being synonymous with the
return of Christ. "For, behold the day is coming, burning like an oven,
And all the proud, yea, all who do wickedly will be stubble; And the
day which is coming will burn them up saith the Lord of hosts, that will
leave them neither root nor branch. But to you who fear My name, the
Sun of Righteousness shall arise with healing in His wings; … Behold, I
will send you Elijah, the prophet, before the coming of the great and
dreadful day of the Lord. And he will turn the hearts of the fathers to
the children, And the hearts of the children to their fathers, lest I
come and strike the earth with a curse." (Malachi 4:1-6)
According
to the words of the Honorable Elijah Muhammad up to the time of his
departure in 1975, he stated that he had not yet completed his True
Mission. He had yet to go away with the Master to be taught a New Book
opening up a New Time and a New World civilization on our planet that
would live forever. He often spoke to many of his followers in future
time stating that we had yet to write our own history, but were
presently walking through the Book of Divine Scriptures, fulfilling
those histories. Ultimately we would be guided into the writing of a
new history, extending our lives into hundreds of years.
The Final Call...