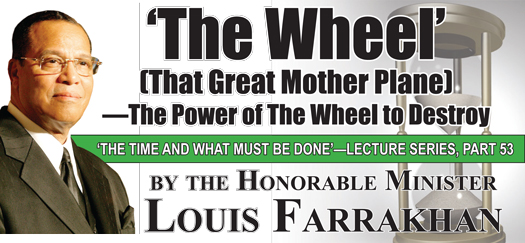 The Honorable Elijah Muhammad concludes in his writing on
page 242
of
The
Fall of America
:
"Let us seek refuge in Allah (God) from the destructive work to come from this Mother of planes."
I
would like to stop here for a moment, because some whom may be reading this may be thinking:
"Well, what are we
building
here for if all of this fire and destruction is coming here?" "Why are
you trying to buy land if this is where the fire is going to take
place?"
Good questions!
Well, as long as we are here,
we have got to live
—this is just
common sense. So what are you going to do,
stop living
;
because a fire is prophesied to come to this part of the Earth? You
don't know "when"; nor do you know "if" that will have to be,
and that is what America is threatened with from Almighty God Allah, Master Fard Muhammad, The Great Mahdi, Who is The Master of The Wheel!
You that are looking for "Jesus The Christ": Master Fard Muhammad is "The Mahdi"; but, in the Christian language, He is called
The Christ
, "One anointed with Power to crush the wicked."
"Christ" is The Master of The Wheel.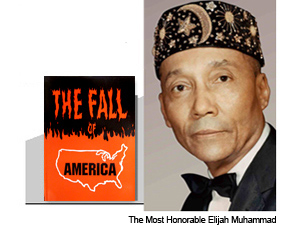 But, you don't know if all these terrible things will happen …
Suppose, America,
that you are wiser than the Pharaoh of the Qur'an and Bible? Suppose you are wiser , and submit after you hear all of this?
And this can
be proved at no limit of time: Suppose the whipping of
The
Forces of Nature
, rain, hail,
snow, earthquake; and
freezing wind
, as you are getting it
right
now … and the Honorable Elijah Muhammad said to me that Allah would
take the temperature up to 80 degrees, and in a few hours drop it down
to
20 degrees
(below "freezing") —a span of "60 degrees" in a few
hours; so that your pores are opened, and the cold will penetrate and
drive some of you to death—
as it
is happening even as I am speaking." The temperature is dropping in some places from 50 degrees to 20 below zero!
God is at work: You can call it "global warming"— God is able to
warm it; He is able to cool it, for He is The Master over all that makes
the "heat" or "cooling"! He is able to freeze it; He is able to make it
liquid. He is in power today; as the Honorable Elijah Muhammad said
earlier, "[As] one of our scientists [on The Wheel] said, 'America … was not worth using no such high explosion on.' [Just] wasn't worth it." But! If America is not
worthy to use that power on, yet the power to use it is with us, then
juxtapose that with this: He's got the power to destroy all life!
You might say,
"Oh, so
you couldn't get them to submit?"
The Honorable Elijah
Muhammad said
God has
power over your life veins and your brain cells.
Sometimes if you show a child "the strap," and he knows that you will use it, then maybe he will act better.
The Honorable Elijah Muhammad said that even
the
devil
can "do good under the
gun"—but you have to have "the gun"; and you've got to keep "the gun"
on him
. Not an actual "gun," but
"the
force and power" that God is now using
on America and
throughout the Earth! Show it to him; and maybe, even let a few of them suffer from these Forces …
To let them know,
in "real time," that you have it!
Then the rest of them may
fall in line.
This is why He is
bringing
these calamities on you "little by little," so that you may reason with
his Servant that is talking to you now, and perhaps this can be
avoided!
But Satan? Ah … He is a different kind of fellow!
"Satan" doesn't care what Allah shows him! His mindset is to go down, and take as many down with him as he can.
It's
your choice.
-The Power of The Wheel to Destroy