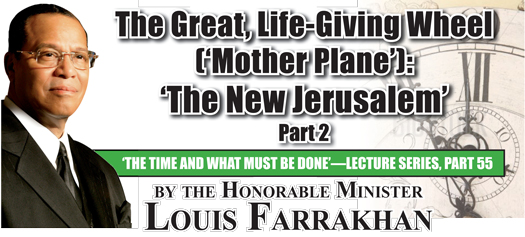 The Wheel's ability to grant 'Eternal Life': Knowledge this world's scientists are missing
They
[medical scientists of this world] say that medicine can be "advanced so far"… You're down here on Earth, learning "how to clone" (and you've done pretty good!); and you're learning about "
stem cell research
"—but, you're just "a baby" in these things!
The Science of the use of the stem cell to
grow new organs
(that you can have your organs replaced, and there will be no rejection because this new organ will be from you):
That
Wisdom and Science is up there!
Why don't you submit? Why don't you just bow down, and allow God to show you The Greatness of what is there on that Wheel?
Once that Knowledge is transferred to us:
We have exactly what it will take to purify the Earth! And the Honorable Elijah Muhammad has taught us that once you get rid of the wicked, the Earth will take on "new growth," like it's a brand new Earth (it will look totally new).
Look at what you're missing…
Some of you have said,
"The Wheels are thousands of years ahead of us"
; some have even said, because they are so overwhelmed, that The Wisdom on The Wheel is "millions of years ahead" of where we are right now in terms of science! Every scholar bears witness that what is on The Wheel is ahead of everything that they have ever
seen
, and even ahead of what they have ever
thought
of.
It's because we have what you are missing.
The Final Call...