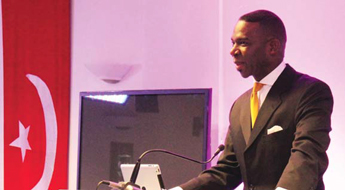 Student Minister Hilary Muhammad, UK Representative of the
Nation of Islam. Photos: Alejandro Restrepo-Celis
Leading representatives from Islamic, Christian and Pan-African organizations alongside professionals, entertainers and prominent community workers agreed to begin working together on a unified community agenda for 2014 during a historic VIP Kwanzaa dinner hosted by the Nation of Islam in Brixton, South London.
In celebration of the second principle of Kwanzaa; Kujichagulia (Swahili for self-determination), guests met with a view to building institutions and creating real opportunities for Black men and women across the United Kingdom.
Read more...