In the desire to celebrate Nelson Mandela's life — an iconic figure who triumphed over South Africa's brutal apartheid regime — it's tempting to homogenize his views into something everyone can support. This is not, however, an accurate representation of the man.
Mandela was a political activist and agitator. He did not shy away from controversy and he did not seek — or obtain — universal approval. Before and after his release from prison, he embraced an unabashedly progressive and provocative platform. As one commentator put it shortly after the announcement of the freedom fighter's death, "Mandela will never, ever be your minstrel. Over the next few days you will try so, so hard to make him something he was not, and you will fail. You will try to smooth him, to sandblast him, to take away his Malcolm X. You will try to hide his anger from view."
| ThinkProgress
Also read: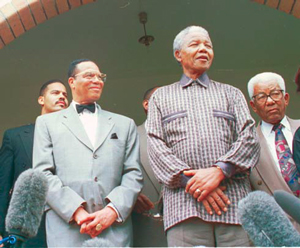 The Hon. Min. Louis Farrakhan and former
South African president Nelson Mandela
ADL spied on U.S. anti-Apartheid activists | Apartheid Israel & Apartheid South Africa were partners. #Mandela
During the time when Nelson Mandela was imprisoned the Anti-Defamation League (ADL) was spying on American anti-Apartheid activists and sharing information with the South African government and their intelligence services.
5 Hard-Hitting Statements from Mandela on the United States | Alternet
Honoring Nelson Mandela
When the Honorable Minister Louis Farrakhan visited Mr. Mandela in South Africa in 1996, critics howled and the South African leader ignored the jackals. Following the meeting, Mr. Mandela told the media he had shared the ANC's various positions with the Minister and didn't see major areas of disagreement.