Zionists, who sided with the murderous White minority government as obtained
Israel
nuclear capacity from
South Africa
, didn't want Mr. Mandela to have relationships or views they did not approve. It was classic Jewish paternalism.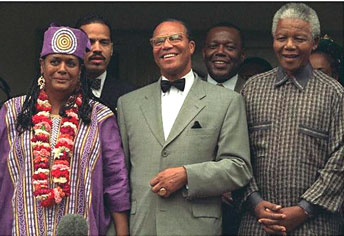 (L-R) Nation of Islam First Lady Mother Khadijah Farrakhan, the Honorable Minister
Louis Farrakhanand Nelson Mandela during World Friendship Tour in 1996.
Photo: Final Call Archives
Mr. Mandela could not have a relationship with leaders Arafat, Gadhafi and Castro—all of whom had a problem with Jews—but it was fine to have a relationship with the United States, England and Western nations who backed a regime that killed, oppressed Blacks and targeted and killed freedom fighters and children.
The Jewish position isn't surprising, they feared any change in Mr. Mandela would usher in a bloodbath and loss of their economic power and other influence. They were always ready to oppose him. They have opposed just about every freedom fighter, in particular Black freedom fighters, after coming into countries acquiring land, accumulating wealth and exploiting the poor.
The Final Call...
Also read:
Israeli PM Netanyahu knocked for skipping Nelson Mandela memorial | The Raw Story
... tight budgets and sick notes do little to mask the lingering discomfort between the two nations. Jerusalem maintained close military and economic ties with Johannesburg even in the final days of the apartheid regime, when most of the world was backing away, and the then-leader of the African National Congress never forgot it,"
... he was indeed highly critical of the Israeli occupation and the absence of an independent Palestine from map of the world. But Mandela fully endorsed Israel's right to exist – and thought the Arabs states would need to reconcile fully with Israel in the context of a peace agreement.