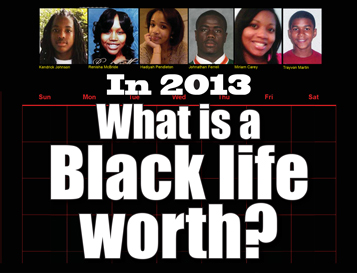 Race-related and Black on Black violence marked tragic year for Black America
The year 2013 saw
George Zimmerman
tried for the killing of unarmed teen Trayvon Martin and the case kept the country riveted. However, when Mr. Zimmerman was found not guilty, a wave of grief and anger swept over Black America. That verdict, along with other brutal killings caused many to believe that it was "open season" on Black people.
A morbid and troubling list of those who had lives cut short under suspicious circumstances, at the hands of police or apparent self-appointed vigilantes marked 2013.
"With the election of President Obama, our first African American president, we're supposed to be reaching a post-racial society but in many ways it seems like civil rights issues and cases have gotten much more difficult," said Atty.
Benjamin Crump
, who represented the family of Trayvon Martin and now represents the family of Kendrick Johnson and other males killed or hurt under questionable circumstances.
» FULL STORY
Also read:
Editorial: What is a Black life worth?
Black suffering in America is not new, but this year seemed to bring an abundance of pain, death and disrespect. Sadly loss of life occurred at the hands of those outside of the Black community and in our assaults on one another. Dying at the hands of our open enemy and the children of those who brought us here to work us to death is not new.