Government's broke, cutbacks abound, joblessness rages, poverty persists amid high anxiety and major suffering: The last thing America needs, or can afford, is a military adventure in Syria, say activists.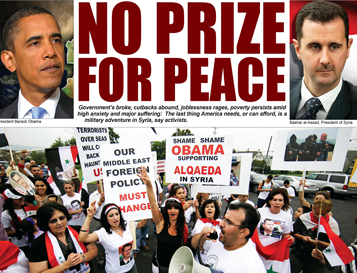 After a week in which President Barack Obama and his chief foreign policy and defense advisers steadily beat the drum for war against Syria in response to an alleged chemical attack, Mr. Obama put his plan to attack Damascus on hold Aug. 31, pending a vote in Congress on any U.S. military action.
The announcement, in a Rose Garden address which was delayed for 37 minutes to allow the noise of a protest demonstration outside the White House to subside, postponed what had appeared to be an imminent cruise missile strike by U.S. forces.
The current drumbeat for war sounds hauntingly like other U.S. escalations, all of which were based on lies told by top administration figures to the American people and to the world. "As I listened to John Kerry yesterday," Abdul Akbar Muhammad, international representative of the Nation of Islam said to the rally, "it sounded like a rerun of Colin Powell at the UN."
» FULL STORY