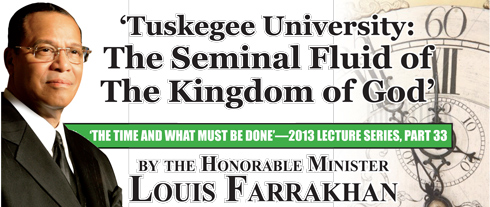 'Tuskegee University: The Seminal Fluid of The Kingdom of God'
And, brothers and sisters, this is what I'm afraid of; that with
the research that is going on in Tuskegee with the HeLa cells, now The Enemy has created genetic weapons that are designed specifically for certain genetic groups—and they are designing different drugs for that same purpose!
Dr. Jonas Salk
used the
HeLa cells in producing the polio vaccine; but yet,
a contaminant
was introduced into the vaccine! Also, it was this HeLa cell that was the carrier of the cancer that was introduced into "SV40" (an abbreviation for "Simian vacuolating virus 40" or "Simian virus 40," a polyomavirus that is found in both monkeys and humans) into the
polio vaccine
; and that's why the Honorable Elijah Muhammad, in the '60s, forbad his followers from taking the polio vaccine.
Now they say that 2,000 pounds of HeLa cells have been produced… And they've gone all over the world! So instead of these immortal cells being used to curb the rise of cancer, the opposite is true: Cancer is proliferating all over the world, especially in Third World countries—and especially among the Black man and woman in America. Is this an "accident"?
Why, in the scheme of things, was the syphilis experiment "so important"? Why is the HeLa experiment and research "so important"? Why, in the scheme of things, was this experiment to start at Tuskegee, in Alabama, where Booker T. Washington established the principles 1.) self-reliance, 2.) self-help, 3.) commerce, 4.) industry; and 5.) agriculture—and where George Washington Carver was? And they even told George Washington Carver that he should not marry; that he should not have any children, because these oppressors did not want to see another "Carver" in a future generation that their children would have to contend with! My question is: What type of research is this, and how will this research benefit us as a people?
Scientists took these cells without asking for permission, and have made millions of dollars off of these cells. And the woman—the Black woman, Henrietta Lacks, from which this immune cell, this great cell was taken—has not received anything, though the world is benefiting from this HeLa cell.
Why Tuskegee? Well, Tuskegee is like a "manger." A manger is like a trough; it's a feeder that is made of carved stone, wood or metal construction, and is used to hold food for animals, as in a "stable." Jesus was born in a manger…
It is not an accident that such greatness has come out of that little city! Tuskegee is a "manger," it's a place of
feeding ground
—a "feeding place" for a people that have been made savage; that from such an institute, which is now a university, can come that which will civilize not only the Black man and woman of America, but from it, the Honorable Elijah Muhammad saw "a world institution."
The Final Call...