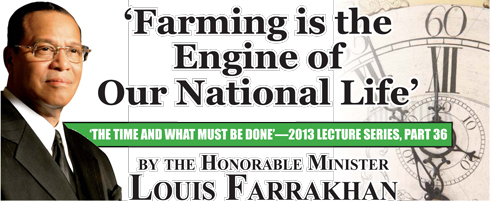 So here we are in the 21st Century, and 75-80 percent of what we once owned, we don't have. We are more dependent now than ever on someone else to feed, clothe and shelter us.
In 1970, out of the $75 billion that Americans spent on food, over half ($40 billion) went directly to the farmers. However, by 1998 Americans spent over $450 billion on food—but the farmer only received just over $100 billion for the raw product that went into the "food," which is a loss of 75 percent of what the farmer used to make! The American people began to eat less self-prepared food at home and more processed food or restaurant meals. So in 1998, $100 billion dollars of Americans' total food budget went to the fast-food industry. The result has been a reduction in the overall health of Americans in general, and Black people in particular.
Most health specialists agree that the loss of the health of Black people is directly related to the foods we
consume. The loss of access to the land has resulted in a loss of health, and non-growth in wealth, for the masses of Black people.
In
1866
, one year after slavery,
"The
Southern Homestead Act"
was passed, which gave 160-640 acres of land to White immigrants, including many members of the Jewish community
coming from the Alsace region of France and Eastern Europe.
These immigrants helped to settle
46 million acres of "public domain" land in the states of Alabama, Arkansas, Florida, Louisiana, and Mississippi. At the same time, Blacks in the South were denied our promised "40 acres and a mule," and we were not even allowed to purchase land in many of the western frontier states.
The Final Call...