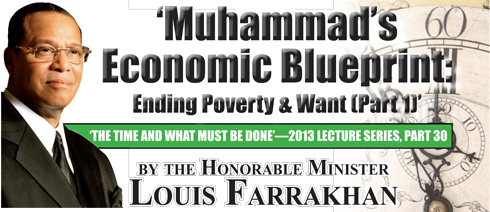 Recognize the necessity for unity and group operation (activities).
Do you understand
that if we can work together as a "group in unity," we will be more successful, more powerful and more able to do the things that as "individuals working by ourselves" we have
never
been able to do? He continues the remaining four:
Pool your resources, physically as well as financially.


Stop wanton criticisms of everything that is Black-owned and Black-operated.


Keep in mind—[that] jealousy destroys from within.


Observe the operations of the White man. He is successful. He makes no excuses for his failures.

He works hard in a collective manner. You do the same.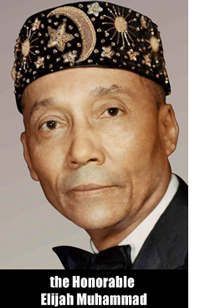 Now, these are things that we
must
do! So when we read in the
section "A Sound Economic Plan I" on pages 195-196
that the Honorable Elijah Muhammad asked us to commit to save just
"5 cents a day"
from our wages—that
25 cents a week
, for
52 weeks in the year
—that would mean we would put aside $13 a year that we could save in a "National Savings Treasury":
"The first step the so-called Negro wage-earners should take is to spend only when necessary and according to their income. They should save as much of their salaries as possible—weekly, biweekly or monthly. We, as wage earners, should always plan to save something from whatever we are paid. … If we can save just five cents a day from our wages, 25 cents a week, $1 a month—that would mean $13 a year we could save in a national savings bank. We number around 22 million and approximately five million are wage-earners. If five million wage-earners saved $13 a year, this would mean $65 million saved out of our wages. At the rate of 25 cents per week, it would be painless. …"


At that time in
1965
when he wrote this,
we numbered "22 million people," and approximately 5 million were "wage earners. Well, if
5 million wage earners
saved
$13 a year
, this would mean
$65 million
saved out of our wages in
one year
—and…
"At the rate of 25 cents per week, it would be painless."

Today, brothers and sisters:
Don't you think we can do better than what we were asked to do 48 years ago?
According to government statistics, there are a little over 16 million Blacks "employed" at some level! Well, look what happens if we raise the economic bar, and contribute the same
"nickel a day"
—but we do it
7 days a week
, with the working force of
16 million
:
"7 days" x "5 cents a day" =


"35 cents a week."


Do you have it? Isn't that "painless"? You know you don't like "pain"… And look at this:
"35 cents a week" x "52 weeks a year" =


"$18.20 per year"


And if everybody listening by television—EVERYBODY UNDER THE SOUND OF MY VOICE—gave "$18 and 20 cents a year," multiply that by "16 million" in the working force":


"$18.20 a year" x "16 million" =


"$291,200,000" Read more...