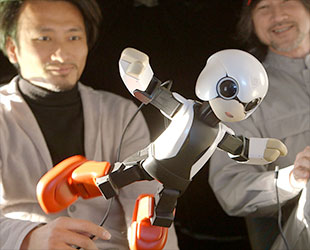 Kirobo was put through a series of
zero-gravity and other safety tests
before it was deemed ready for flight.
(Kibo Robot Project)
The robot, which can function in zero gravity, is being hailed as a leap forward in artificial intelligence because it can appear to express emotion during conversations. And at least it isn't saying it dreams of a world dominated by robots – not while humans are listening, anyway.
The 13-inch, 2.2-pound "Kirobo" has been getting all the attention with its design modeled on the classic Astro Boy manga and anime character, and cute conversational skills. But the mission also signals both the continuing advancement and commercialization of Japan's space program, and the development of further practical applications for robots back on terra firma.
- CSMonitor.com
Related articles:
Kirobo, World's First Talking Robot Launched Successfully by Japan into Space [VIDEO]

Japanese cargo launch sends a tiny talking robot to space station
'Robohope': Talking robot sent to ISS to 'get along' with humans (VIDEO)

Japan launches HTV-4 space station cargo ship with talking robot aboard | collectSPACE
University of Tokyo's Research Center for Advanced Science and Technology as part of the Kibo Robot Project, Kirobo seeks to further technologies for robot-human interaction