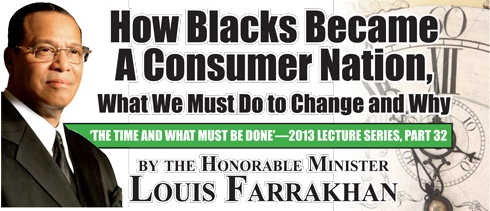 'Separation', a familiar concept to America that now must be applied to The Black Nation
We believe in "separation." We believe that integration is a
hypocritical trick
to make us think that our 400-year-old enemy has all of a sudden become our "friend." They'll let you into
the bedroom
, and keep you right at the door of
the boardroom
.
America: "Separation" is not a foreign concept; it is what you're doing at this very moment, everywhere you've gone! You're in
Iraq
now … The British were there before you, and they made borders and put people together that were of different ethnicities and tribal backgrounds, knowing that in the future you would turn one against the other for your own purposes. Now you're in Iraq, and you are saying that you would like to see Iraq separated into "three areas." It was one country, but you want The Kurds in the
north
; The Shia in the
south
, and The Sunnis in the
center
.
America: You
like "separation" when it suits your purpose.
Now you're in
Syria
, and you want to separate the Syrians! You have
The Alawi
, you have
The Druze
, you have
The Sunnis
, and your intention is to create two or three "states" inside Syria! You're not "upset" over dividing the country up with "various ethnicities that have grievances with each other."
"Separatist movements" are active all over the world: In
Spain
you have "The Basque" country, "The Valencia" and others wanting to separate. There are such movements in
France
,
Belgium
,
Scotland
,
England
,
Germany
,
Finland
,
Denmark
,
The Netherlands
,
Norway
,
Portugal
,
Cypress
and
Poland
, to name "a few." The French-speaking people of
Quebec
in Canada want a state of their own.
Yugoslavia
was one great nation under Marshal
Josip Broz Tito
; but as you went into Kosovo, and you broke up and separated them, now you have several different nations that once were "one." So let's look into "the mirror," right here in America: Since the re-election of President Obama there are petitions in support of "secession" from
all 50 states
! Active ones in Texas, and a few more; all they have to do is raise 25,000 in signatures, and the White House is supposed­ to respond. President Obama has not responded yet—but you're going to have to do something!
Yes
, the Native American was forced off his land into "reservations"; and once upon a time, Asians were separated into "concentration camps."
And today, in every major city, various groups have separated themselves in what are "ethnic enclaves":
The Polish
have their part of town: They own it, they rule it;
The Germans
have their part;
The Jews
have theirs;
The Mexicans
have theirs. And Black people: You have yours, but you don't "own" it; you don't control anything in your community! The schools are running amuck! The children are running amuck! But, we've got something for you "gang bangers" to do …
There's a natural inclination for people to form "clans" and "tribes" for their general security and well-being. We see in Africa a "tribal system" undergirding every nation. People are desiring to be on their "own" now!
In
Sudan
: You had the Muslims in the North, and the jet-Black brothers and sisters in the South. The oil is in the South—but the oil was going North to the Arabs! The "Arab North," even though they're "people of color": They see themselves as more "Arab" than "African," so the real Black one in the southern part of Sudan, he's catching hell! They fought for 20 years or more, because "wealth" was not distributed
properly
,
justly
,
fairly
; so now you've got "Northern Sudan," "Southern Sudan": Two different nations.
Well, we're having a problem "getting along"
with you
. We don't like the way we're being treated. Brothers and sisters,
how many of you are "happy"?
If you're getting scared now, well, we'll "terrify you" into getting straight, because whether you like it or not you're going to have to have your own.
The Final Call...