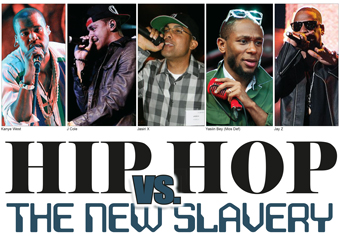 "After years of some of the most self-hating and ignorant music our people have ever been forced to digest, this is definitely new and refreshing what J. Cole and Kanye West are saying. I hope it spreads like wildfire to other artists. We need balance back in all forms of Black music, no question," said Kevin Powell, president and cofounder of BK Nation, a new national organization based in New York City.
J. Cole's project, "Born Sinner" has a track titled "Runaway" where he discusses how a conversation with his racist manager had him thinking about the legacy of chattel slavery in America: "Made me reflect on the time when we was 3/5s of them/chains and powerless/brave souls reduced to cowardice … "
Then he makes the connection to today: "Rich white man rule the nation still/Only difference is we all slaves now, the chains still concealed."
Kanye's new release, "Yeezus" has a track titled "New Slaves" which rails against racism, capitalism and the prison industrial complex: "My momma was raised in an era when, clean water was only served to the fairer skin ... use to be only n----rs now everybody playing, spending everything on Alexander Wang … meanwhile the DEA teamed up with the CCA.
The Final Call...