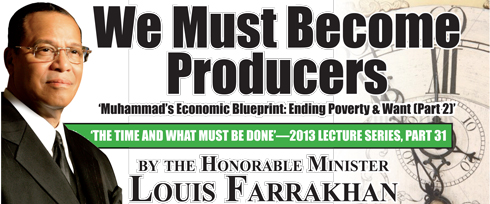 Dear pastors, imams, religious leaders:
How do we begin this "transformation of our minds"? What behaviors must we confront—and reform—so we can finally achieve the success that has eluded us under every other plan put before us? Let's start by taking a look at our
crazy lifestyle
.
We think we are "poor," and we are, but that is either the result of "oppression" or
our own behavior
. It is reported that our annual "spending power" amounts to $1.1 trillion.
But what do we spend it on?
Scientists have studied our spending habits and our buying habits, so they know how to market their goods to us; and their data shows that we spend our money far too foolishly and recklessly on products and services that are leading to our own self-destruction. We have to cut back on the things that are killing us!
That's what makes Dr. Naim Akbar's words to us so fantastically wonderful, because we have to "attack" the condition of our people
morally and spiritually
in order for us to become "strong"
economically
!
In cannot be just "economics" with us, we have to attack "The Spiritual Problem" and "The Moral Problem" that facilitates our economic demise.
***
Tell me if "we agree" on the following: According to a study titled
"The Buying Power of Black America"
by
Target Market News
: We spend
$3.3 billion
a year on
tobacco
,
$3 billion
per year on
whiskey, wine and beer
(and, not to think of "reefer" and "crack cocaine"; that is
$7-8 billion
right there!). And while we spend more on
alcoholic beverages
, on the
non
-alcoholic beverages we spend
$2.8 billion
a year! What if we were more "thrifty" in our leisure time spending, which is another
$3.1 billion
? We spend an additional
$3.5 billion
on toys, games, and
pets
.
And
Lord have mercy
… Look at what we spend on
"telephone services"
:
$19 BILLION A YEAR!
It is reported that
54 percent of Blacks
own a "smart phone." Do we need to talk so much? And by the way,
what are you talkin' about?
No wonder the F.B.I. knows everything about us; if you don't already have it on
Facebook
and the
iPhone
… You're sure not talking about "God" for "$19 billion"!
We spend
$10 billion
buying gifts for one another, and more than
$17 billion
in
charitable contributions
. Where is your charity going? Is it going to the
Red Cross
? Well, unfortunately, the people in Haiti don't know anything about that! They never got the money! Are you giving to your churches? It could be… But now, churches are "screaming" that they're not getting enough money; and their grant money is drying up!
'Read more...