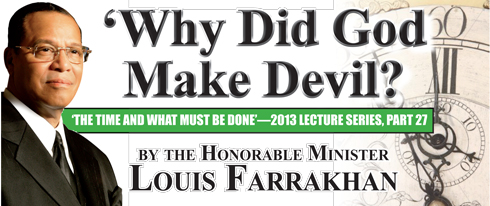 We know that "Satan" or "The Devil," is the
adversary
, the
opponent
, the
foe
of Almighty God Allah, and The People of God; but,
why
would God make an "adversary"? Since God is above need of everything,
why
would He bring into existence an "opponent," an "opposer"?
What is His Purpose?
We have mentioned in previous broadcasts that it is written in the
Holy Qur'an, Surah 2 Al-Baqarah ("The Cow"), verse 30
that Allah (God) said,
"I am going to place a ruler in the earth."
And when the angels said,
"We celebrate Your praise, we extol Your holiness, but what would You put in the earth as a ruler except that which would create mischief and cause the shedding of blood?"
Allah answered the angels, saying:
"I know what you know not."
It is written in the Book of Romans, Chapter 8, verse 28: "All things work together for good to them that love God, and to them who are called according to His Purpose." Since The Devil was given life by God, and had a Divine Purpose for his existence, then "The Ultimate Good" of God would be manifested in His reason for making a devil. "Why did God make devil?"—here is that question "why?" As we have discussed in Parts 25 and 26 of this lecture series ("The Lie and The Liar Must Be Exposed, Parts 1 and 2"): When we ask the question "Why?" we are asking 1) "For what purpose?" 2) "What is the reason?" and 3) "What is at the root of your intention?"
"Why did You, God, make 'devil'?"
By The Grace of Allah, Part 27 is going to reveal what Allah meant when He said, "I know what you"—the angels—"know not."
'Incompletion, Imperfection and Dissatisfaction': 'The Wobble' (Imbalance) in Human Nature Read more...