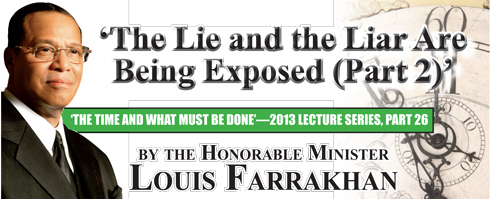 How 'damaging lies' corrupt our ability to perceive reality
Let us take a look at how The Enemy starts us off with lies: Do animals talk? No. Why, then, are cartoons made that have animals talking, and not human beings? Our children are being introduced to that which is not real;
Mickey Mouse
,
Donald Duck
—you know the cartoons: The children are
fascinated
by this. But, they are starting our children off with Falsehood… Damage is already being done to the power of their beautiful young brains.
Is "Santa Claus" real, or is it a lie? Can a woman give birth without the agency of a man? Is there really a "heaven" in the sky? Is there really a "hell" deep down in the Earth? Are you really going somewhere after you die? Is it real that we're going to see "Mommy" again, "Daddy" again, "friends" again? Were we really found in the jungles of Africa swinging from trees? Or, are all of these lies? And, what is
the effect
of these lies on our brains that are made to think rightly? We've been conditioned, from a child, to accept
Falsehood
as "Truth." Satan has taught us to eat the wrong kind of food.
Anything that destroys or corrupts our ability to perceive reality does damage to our brains.
What is "The Law of Cause and Effect"? How could The Effect be real, and The Cause a mystery?
In our
Supreme Wisdom
Lessons
from Master Fard Muhammad and the Honorable Elijah Muhammad, we are taught in
Lost-Found Muslim Lesson No. 2
that "85 percent" of the population of the Earth believes in a "Mystery God," and they do not understand The Law of Cause and Effect.
Read more...