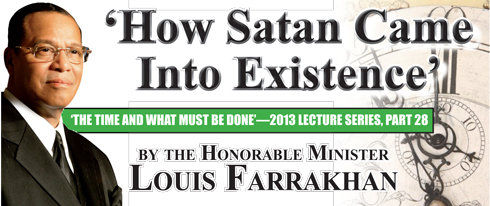 The Black Scientists (Gods) and their determined Ideas that serve as 'signs of significant change'
The Honorable Elijah Muhammad taught us how the Black man "writes History." We write our History in advance—not after we complete it: We write it in advance, and then fall in line with what we have written. On page 108 of Message To The Blackman, the Honorable Elijah Muhammad writes: "We make such history once every 25,000 years. When such history is written, it is done by twenty-four of our scientists. One acts as Judge or God for the others and twenty-three actually do the work of getting up the future of the nation, and all is put into one book and at intervals where such and such part or portion will come to pass, that people will be given that part of the book through one among that people from one of the Twelve (twelve major scientists) as it is then called a Scripture, which actually means script of writing from something original or book. There is significance to the number 24 Scientists and the 25,000 years. The number twenty-four Scientists used is in accordance with the hours in our day and the measurement of the circumference of our planet around the Equator and in the region of our Poles, Arctic and Antarctic Oceans. Our planet is not exactly 25,000 miles in circumference, it is 24,896 and we, according to astronomy, don't have a full 24-hour day but near that—23 hours, 56 minutes and 46 seconds. The change made in our planet's rotation at the Poles is about one minute a year and takes 25,000 years to bring about a complete change in the region of the Poles. The actual Poles are inclines 23 ½ degrees to the plane of its orbit."
In the Book of Revelations, Chapter 4, verse 4, these 24 Men, or "Scientists," are called "The 24 Elders": "And round about the throne were four and twenty seats: and upon the seats I saw four and twenty elders sitting, clothed in white raiment; and they had on their heads crowns of gold." It is They that write The History to last for 25,000 Years. The Honorable Elijah Muhammad taught us that it is also They Who are that "Exalted Assembly" mentioned in the Holy Qur'an, Surah 72 Al-Jinn ("The Jinn"), verses 8-9—that when "the devil" tried to "steal a hearing" on their conversations, he found awaiting him "a flame": "And we sought to reach heaven, but we found it filled with strong guards and flames: And we used to sit in some of the sitting-places thereof to steal a hearing. But he who tries to listen now finds a flame lying in wait for him."

The Honorable Elijah Muhammad said whenever it is time for a certain part of The Book to come to fruition, One of The 12 Major Scientists would reveal what is called "scripture," or "a part of The Writing," to a "prophet" or a "messenger" who would fulfill that part that concerns him and the people to whom he would be sent. He taught us that in the Year One of our present cycle, The Scientists went out and listened to the thinking of the people, and based upon that thinking They began to write the present 25,000-year History. Beginning on page 110 of Message To The Blackman, he said in the Year "One" They saw a man coming in the Year "8,400," who would be born out of a "30 percent dissatisfaction" that would exist at the time of his birth; and that man would be one born to bring about a significant change.

His name was
Yakub
(or, as the Bible calls him
"Jacob,"
who wrestled with The Angel, and prevailed, and his name was changed from "Jacob" to
Israel
). He was a
great
Black Scientist. Not an "evil" Scientist, but a Scientist who understood that in The Original People there was a
defect
—and he would study The Life Germ of The Original Man, and make a new people that would rule The Original Man for a period of "6,000 years."
The Final Call...