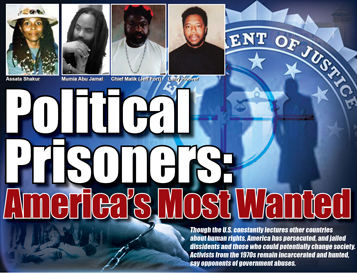 Though the U.S. constantly lectures other countries about human rights, America has persecuted, and jailed dissidents and those who could potentially change society.
ATLANTA - The FBI says Black liberation icon
Assata Shakur
is a terrorist. She was added to the FBI "Most Wanted Terrorist" list for the 1973 murder of a New Jersey state trooper. The announcement came with a $2 million bounty for her capture.
But what is America's intent? Why her? Why now? And, while the U.S. blasts others for squelching political dissent and accuses countries of human rights abuses, longtime activists charge the U.S. has its own history of political repression and victims languishing in prison today.
"It isn't a designation," said former leader of the
Black Panther Party
Elaine Brown
, when asked by
The Final Call
, why she believes such a designation of Ms. Shakur occurred. "We have to recognize that this is an affirmative act by the U.S. government as led by President Barack Obama and
Eric Holder
as the head of the FBI. Let's not get it twisted."
» FULL STORY