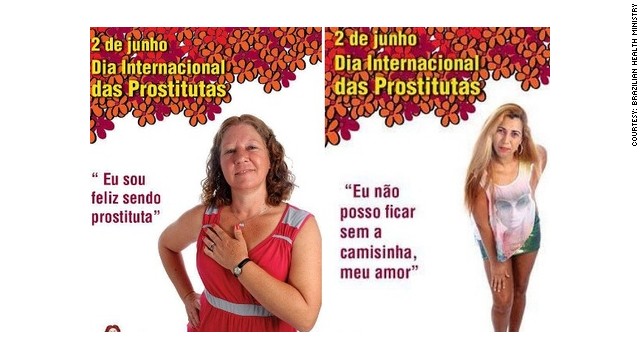 Happy Prostitute Ads PHOTOS [VIDEO]: Did campaign glamorize prostitution? | Christian News on Christian Today
"Happy Prostitute Ads" commissioned by the Healthy Ministry in Brazil to promote safe sex has backfired.
The online campaign, which featured slogans such as "I'm happy being a prostitute" and "I cannot be seen without a condom, my love," have been scrapped after it received wide criticism and backlash for glamorizing prostitution.
Brazil pulls 'Happy Prostitute' ad after complaints - UPI.com
Prostitute ads pulled: Safe sex campaign looks more like sales pitch in Brazil - Hartford Top News | Examiner.com
Prostitute ads, that were posted online to promote safe sex in Brazil, were ordered taken down by the same folks who paid to have them created. The Health Ministry of Brazil commissioned these prostitute ads as a public service message for their safe sex campaign "I'm a happy prostitute," but this backfired big time, according to CNN on June 5, 2013.
Watch the reality of so-called 'Legal Prostitution' & 'Safe Sex' in Brazil: