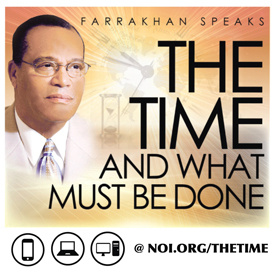 "It is God's duty to the human family to expose Satan, and pull him out from under the cover, make him known so that the people who have been deceived by Satan may, after knowledge of Satan, fall away from him because Satan being the son of perdition is leading everyone that follows him to ruin, to loss, to desolation, to destruction," said the Minister in a May 18 message webcast at noi.org.
" 'Surely man is in loss except you who believe.' Believe in what? Believe in that way God will reveal of Satan, and of himself, and of The Time and What Must Be Done," he continued.
Satan is not a spirit but is manifested in the flesh as Caucasian people and false Jews who use a system of tricks and lies to master the original people, and refer to a people that fully manifest evil and rebellion found in the original people, he explained.
The Final Call...