"Our national ideal of who is vulnerable – and who holds victim status – are those who are White and female."
The perception of victimhood is partly a media creation.
In truth, nearly half of those individuals who go missing in the US are not White – though one might not know that from the news coverage.
Amanda Berry was abducted in April 2003 and DeJesus a year later. They were children when they vanished, and their families were desperate to find them.
Yet the coverage of their abductions was dramatically different.
In Cleveland, the newspaper stories were mainly about the White girl.
In the 10 years Amanda Berry was missing, the Cleveland Plain Dealer newspaper published 36 articles about her, according to a search of electronic news archive Lexis-Nexis.
During the nine-year period that DeJesus, who is Hispanic, was missing, the newspaper published 19 articles about her case.
• Africanglobe.net
Missing Black Children, Missing Black Adults, Report a Missing Person
: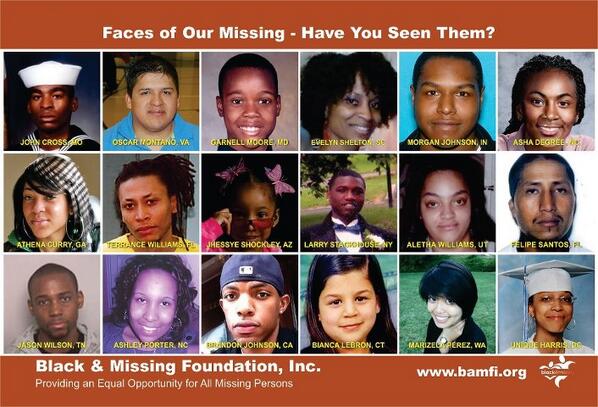 Black and Missing Foundation, Inc (BAM FI) has been established as a non-profit organization whose mission is to bring awareness to missing persons of color; provide vital resources and tools to missing person's families and friends and to educate the minority community on personal safety.
Founded in 2008 by a veteran law-enforcement official and public relations specialist, BAM FI will create public awareness campaigns for public safety and provide parents and loved ones of missing persons with a forum for spreading the word of their disappearance, with pictures and profiles of missing individuals. BAM FI will use a variety of media, including print, television, and the internet, to help locate missing persons of color for this severely underserved population.
BAM FI is a non-profit 501(c)(3) organization.