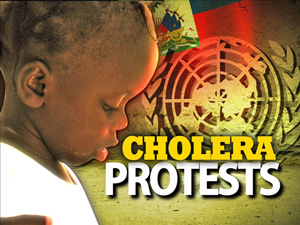 A spokesperson for the UN Secretary-General recently told reporters at UN headquarters in New York
that the world body is rejecting claims filed on behalf of cholera victims in Haiti.
Fifteen months ago the Boston-based Institute for Justice and Democracy In Haiti and its Haitian counterpart, the Bureau des Avocats Internationaux, delivered to the UN Mission in Haiti's office a claim alleging the United Nations was culpable in spreading cholera that has to date killed nearly 8,000 Haitians and infected over 500,000 people, according to human rights organizations.
The Final Call...