Wives of presidents and government ministers attend major health summit in United States; welcome Black America's help to make change, progress.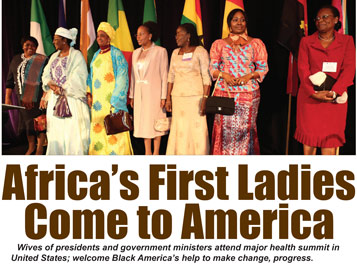 When the doctor spoke at the Wednesday morning session inside the Intercontinental Hotel Ballroom, the message was clear: He has had experience, success and needs a new job. He wants to come back to Africa and work on public health problems.
More impressive than his pitch were the women to whom it was addressed: The unofficial interviewing committee was the wives of African leaders and government ministers attending the second African First Ladies Health Summit April 2-4.
The women and their determination to resolve serious, often deadly, problems in their countries was on display at the gathering organized by U.S. Doctors for Africa.
» FULL STORY