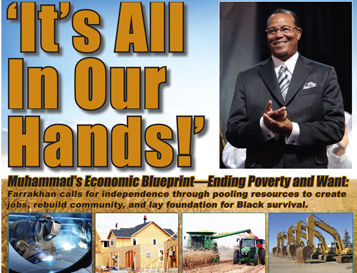 The Honorable Minister Louis Farrakhan presented a clear plan for those ready to work to establish a free and independent Black nation during his Saviours' Day 2013 keynote address themed "Muhammad's Economic Blueprint: Ending Poverty and Want."
"When this lecture is over, I want to see if you are in agreement with what we say, and if in agreement, you are willing to act upon the principles that you will hear," said Minister Farrakhan. "Today's subject, by Allah's grace, will give you a vision of what we as a people must do to solve our problems."
There was a festive atmosphere in the University of Illinois at Chicago Pavilion, which was packed to the rafters with those traveling from across the city, throughout the region, around the country and the globe to hear solutions presented by the National Representative of the Honorable Elijah Muhammad, patriarch of the Nation of Islam.
» FULL STORY