Is it finally enough?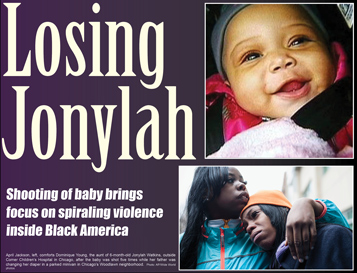 While some wonder if, and others pray that, the recent shooting death of six-month-old Jonylah Watkins in Chicago brings enough shock, sadness, pain and outrage to reverse violent trends in inner cities, anti-violence experts and advocates say change nor a healing will come until America confronts and corrects the causes of such violence head on.
It's almost inconceivable that a gunman could walk up to the van where Jonylah's father was changing her diaper in their Woodlawn neighborhood, and open fire. But the act indicates just how far man has fallen, they say. The child's funeral was set for March 19 at Final Call presstime.
"It (violence) eats away at our humanity," said Dr. Joy DeGruy, researcher, educator, and author of "Post-Traumatic Slave Syndrome: America's Legacy of Enduring Injury and Healing."
Final Call...