In this special month devoted to our history, The Final Call explores some of the most outrageous and false stories, accounts, and sentimental tales commonly told.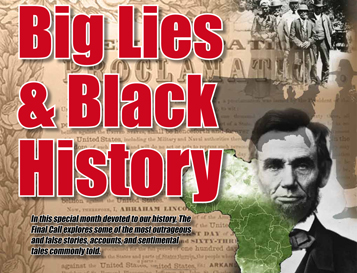 Lie #1 - Whites were the first people on earth:
As long as Mendel's Law is in effect Whites can never be the first humans.
Lie #2 - Blacks in slavery were only cotton pickers and maids:
Blacks were desired so badly by White Europeans that they were willing to build thousands of ships over hundreds of years to sail thousands of miles to start wars to capture them, bring them back thousands of miles to enslave them forever. Black slave laborers built America's infrastructure, including its buildings, roads, bridges, and railways.
Lie #3 - Lincoln freed the slaves.
Steven Spielberg may believe it but it just ain't true. A careful reading of Lincoln's 1863 Emancipation Proclamation proves that it freed NOT A SINGLE SLAVE!
» FULL STORY