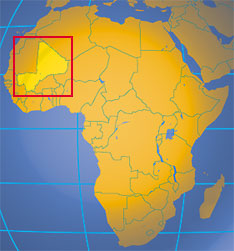 Mali, Africa
Within the past few days, French combat forces have deployed to the West African state of
Mali
to halt the advance of terrorists fighters toward the capital and to help the
Malian army
begin to reclaim towns previously occupied by the militants. After intense airstrikes against rebel strongholds, French ground forces are moving north to try to dislodge the terrorists.
Mali is one of the poorest countries in Africa, a vast and sparsely populated land that is largely desert. But events there are being watched with growing anxiety throughout West Africa, in European capitals and in Washington. Why?
• Africanglobe.net
Also read:
'Al-Qaeda threat used by NATO as smoke screen for re-colonization of Northern Africa' — RT
Journalist Neil Clark told RT he believed economic reasons were behind every single western military adventure of the last 30 years – and Mali was no different.
What are Western and African powers up against in Mali, Algeria? - CSMonitor.com
Today in Algeria, authorities are scouring a Saharan gas plant for bodies in the wake of a hostage crisis that ended in a shootout between the Army and Islamist kidnappers. Around the world, leaders are vowing to strike back hard at Islamist militancy that is surging across North Africa.
"Unintended Consequences of Military Intervention": Roots of Mali, Algeria Crisis Tied to Libya War
In Algeria, at least 22 foreign hostages remained unaccounted for in what has been described as one of the biggest international hostage crises in decades. Islamist militants opposed to the French air strikes in neighboring Mali seized a gas facility near the Libyan border. It remains unclear how many people died on Thursday when Algerian forces stormed the desert gas complex to free the workers. Meanwhile, the Obama administration has acknowledged it is now directly aiding France's military operation in Mali. We speak to Emira Woods, co-director of Foreign Policy In Focus at the Institute for Policy Studies.
BBC News - Mali conflict: France aiming for 'total reconquest'