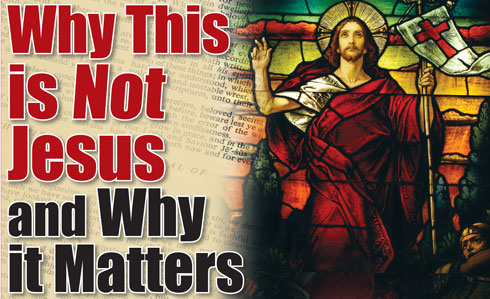 What color was Jesus? Most American Christians-Black and White-would dismiss this question as both irrelevant and unanswerable as the Gospels fail to give us a physical description.

The irony is that most of these same Americans in their heart of hearts are pretty confident any way that they know what color Jesus was. They attend churches with images of a tall, long haired, full bearded White man depicted in stained glass windows or painted on walls, and they return home to the same depictions framed in their living room or illustrating their family Bibles.

Further compounding the irony is the fact that America actually has an obsession with the (presumed) color of Christ and has exported her White Americanized Savior around the world. In fact, the world's most popular and recognizable image of Christ is a distinctly 19th-20th century American creation.
» FULL STORY
Also read:
In 1845, the great Black abolitionist and orator Frederick Douglass explained that these so-called holidays were "
one of the grossest frauds committed upon the down-trodden slave
." He saw right through the false religious piety to the real economic motive of the celebrations.
The 1st Black Man to See the Baby Jesus: Who Was the Black Wise Man?
African Americans have long been fascinated by the presence of black people in the Bible. This concern, for my generation, became quite intense about the time that Rev.
Albert Cleage
founded the Shrine of the Black Madonna in Detroit in 1967, and many black Christians sought to reconcile their faith with a growing involvement in black cultural nationalist politics. And while the claims of the blackness of biblical characters can be a bit extreme -- my cousin, Little Jim, for example, to his dying day insisted that Jesus had to have been a black man because some biblical passage I could never find apparently described him as having "woolly" hair or hair "like a lamb." For the record,
Revelation 1:14-15 says, "His head and his hairs were white like wool, as white as snow; and his eyes were as a flame of fire; And his feet like unto fine brass, as if they burned in a furnace; and his voice as the sound of many waters."
Regardless of how you interpret that, there is no question that the Bible, in both the Old and New Testaments, is full of brothers and sisters.
The Root...
Related story:
On Christmas: What Would OUR Jesus Do? (FCN, 12-24-2012)
Black Folks' Guide to Understanding Christmas (FCN, 12-22-2011)
Denigrating Black People A Christmas Tradition In Europe •Africanglobe


Every Christmas, Sinterklaas – the Dutch and Belgian Santa Claus – is celebrated. And the debate over Black Pete, his slave who is usually portrayed by Whites in blackface and curly wigs, is rekindled.
As is the tradition on Dec. 5 in The Netherlands and Belgium, many children will receive gifts from Sinterklaas, or St. Nicholas. But there's another, more recent tradition that accompanies the holiday as well: the debate over Sinterklaas's traditional helper, Zwarte Piet, or "Black Pete."


Black Folks' Guide to Understanding Christmas


Racism was interwoven in this Christmas folklore through another disturbing tale. Nicholas' function in the church was to judge the goodness or evil of the children in his domain. He would quiz them on their church lessons, rewarding them with candy and gifts, or chastising them with sticks or pieces of coal. He was accompanied by a sidekick named "Black Pete," described by one scholar as a "hairy, chained, horned, blackened, devilish monster ... clutching a gaping sack in his hairy claws." Black Pete's job was to glare at the children while Nicholas drilled them on their lessons. The menacing monster with African features would every now and again flash his enormous canines and leap toward the frightened children, threatening to beat them with his rod. Nicholas warned the bad children that this "Black Pete" would stuff the little transgressors into his sack only to be released at the next Christmas.


The History of Christmas and Its Pagan Origins • Africanglobe.net