Before we begin I want to alert everyone that listens to this podcast to Tune Your Mind into what is about to be share with us. Our guest, Minister Akbar Muhammad, The International Representative of The Honorable Minister Louis Farrakhan and the Nation of Islam.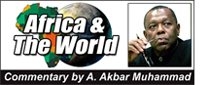 Minister Akbar has a historic, spiritual/prophetic, and Geo-political understanding of current world events.
Mr. Muhammad was born in Hampton, Virginia, and raised in New York City where he joined the Nation of Islam (NOI) in 1960.
From 1965 to 1975, he served as Minister Louis Farrakhan's assistant, and was a key organizer to one of the biggest events in 1974 "Black Family Day" which drew over 70,000 people to Randall's Island.
In 1978 he became the assist Minister Farrakhan to help rebuild the Nation of Islam
1984 became the International Representative of the NOI.
1994, he organized the NOI's first International Saviours' Day Convention in Accra, Ghana.
He planned and organized Minister Farrakhan's international tours
Through the Africa and Middle East Literacy Foundation, he consults with African and African-American leaders to promote humanitarian efforts in different
parts of the world and through his foundation Youth4Africa he take Black youth back to their roots by traveling "back to Africa"
He writes nationally and internationally column, "Africa and the World" can be read in The Final Call Newspaper
We are honored and overjoyed to have on * Sistar Cassandra,,, Presents!!!! * Minister Akbar Muhammad
Read more at: