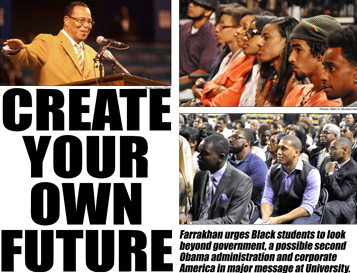 An enthusiastic crowd of over 3,000 inside Southern University's Felton G. Clark Activity Center greeted the Honorable Minister Louis Farrakhan Oct. 3, where he challenged students to develop new strategies and solutions to solve today's problems.
These solutions will not come from corporate America, President Barack H. Obama, nor his Republican opponent Mitt Romney, he added.
"I did not come here tonight to make you think that because we have a Black president that everything is going to be all right," Minister Farrakhan told the thousands in attendance and those viewing live via Internet webcast.
The crowd, largely comprised of university students, listened carefully as Minister Farrakhan talked about the importance of proper education, while encouraging them to use their skills and talents to solve the problems plaguing society.
» FULL STORY