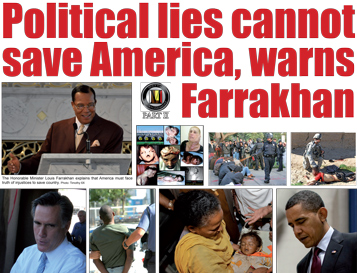 The Honorable Minister Louis Farrakhan weighed in on the most pressing issues of this year's pivotal presidential election in part two of a message delivered a week earlier titled "Guidance for Our President and Our Nation."
Speaking to a standing room only crowd from the majestic sanctuary of Mosque Maryam, the international headquarters of the Nation of Islam, Min. Farrakhan repeated his declaration that "radical solutions" are needed to solve America's problems.
As long as America's leaders continue to deceive the American people, the people will not be willing to do what is in their best interests to solve a plethora of problems, he said.
"Real leadership has to deal with truth. Real leadership must be courageous enough to tell the truth. Real leadership must spend its life seeking the truth, then have the courage to tell the truth regardless of the consequences," Minister Farrakhan said. "Truth is that upon which the universe and everything in it is constructed." » FULL STORY