First the signs went up on San Francisco buses. New York's Metropolitan Transit Authority vowed to fight their placement on the city's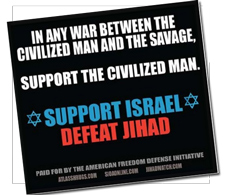 subway in court. That battle was lost and the highly controversial ads by American Freedom Defense Initiative were placed in the New York subway system.
The ads, which read, "In any war between the civilized man and the savage, support the civilized man. Support Israel … Defeat jihad," have been denounced by Muslims, Christians and Jews. FinalCall...

Also read: