Poverty, urban violence other crises are missing as Romney and Obama pursue the middle class vote and a seat in the White House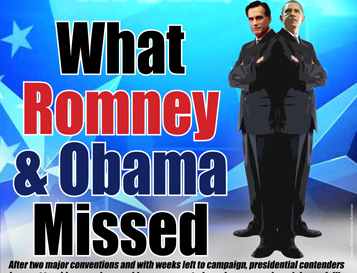 With the Republican and Democratic conventions behind them, President Barack Obama and Republican rival Mitt Romney are fine tuning their debate skills. The first of three nationally televised debates is set to air Oct. 3, live from the University of Denver's Magness Arena.

The debate is not open to the public, and university students are selected randomly to attend via a special lottery drawing of tickets allocated to the university by the Commission on Presidential Debates.

As the election draws nearer both parties share a shameful commonality, neither has shown major interest in issues facing Blacks and the poor in 2012.

What does that portend regardless of which candidate wins? Should 40 million or more Blacks, who support the president by a super majority and polled literally zero support for Mr. Romney expect more of the same after Nov. 6? » The Final Call...